Note: Affiliate links may be used in this post. I may receive a small commission at no extra cost to you if you make a purchase through my affiliate link. Read my full disclosure policy here.
Fun and Delicious Grinch Inspired Holiday Treats
How the Grinch Stole Christmas is a holiday favorite for adults and kids alike. Everyone loves this Christmas classic, and there's no question that these fun Grinch-inspired holiday treats will be a hit this holiday season too!
From Grinch cookies to Grinch punch, here are 12 tasty holiday recipes inspired by the Grinch!
1. Grinch Punch
This flavorful Grinch Punch is easy to make and the perfect thing to serve at holiday parties!
2. Grinch Popcorn
Grinch Popcorn is the perfect holiday movie night snack! This popcorn recipe is gluten-free and delicious!
3. Grinch Pretzel Bites
Kids will love these bite-sized Grinch Pretzels! These make a fun after-school snack or a great treat for holiday classroom parties.
4. Grinch Nutter Butters
Grinch Nutter Butters are fun and easy to make! These Grinch-themed peanut-butter cookies are the perfect holiday treat.
5. Grinch Cookie Dough Crinkle Cookie Bites
These Grinch Cookie Dough Crinkle Cookie Bites are an absolutely delicious holiday dessert! Made with cookie dough and crinkle cookies, these sweet treats will hit the spot.
6. Grinch Rice Krispie Treats
Get festive with these Grinch Rice Krispie Treats perfect for holiday parties or kids' classroom parties!
7. Crinkly Grinch Cookies
These green Crinkly Grinch Cookies are sure to be a hit around the holidays!
8. Holiday Grinch Cocktail
For an adults-only Grinch-themed treat, try this fun Holiday Grinch Cocktail!
9. Grinch Sandwich Cookies
These Grinch Sandwich Cookies are made with naturally green pistachio shortbread cookies and red frosting in a hear cutout!
10. Grinch Cupcakes
These Grinch Cupcakes are cute as can be and perfect for holiday parties!
11. Grinch Christmas Cookies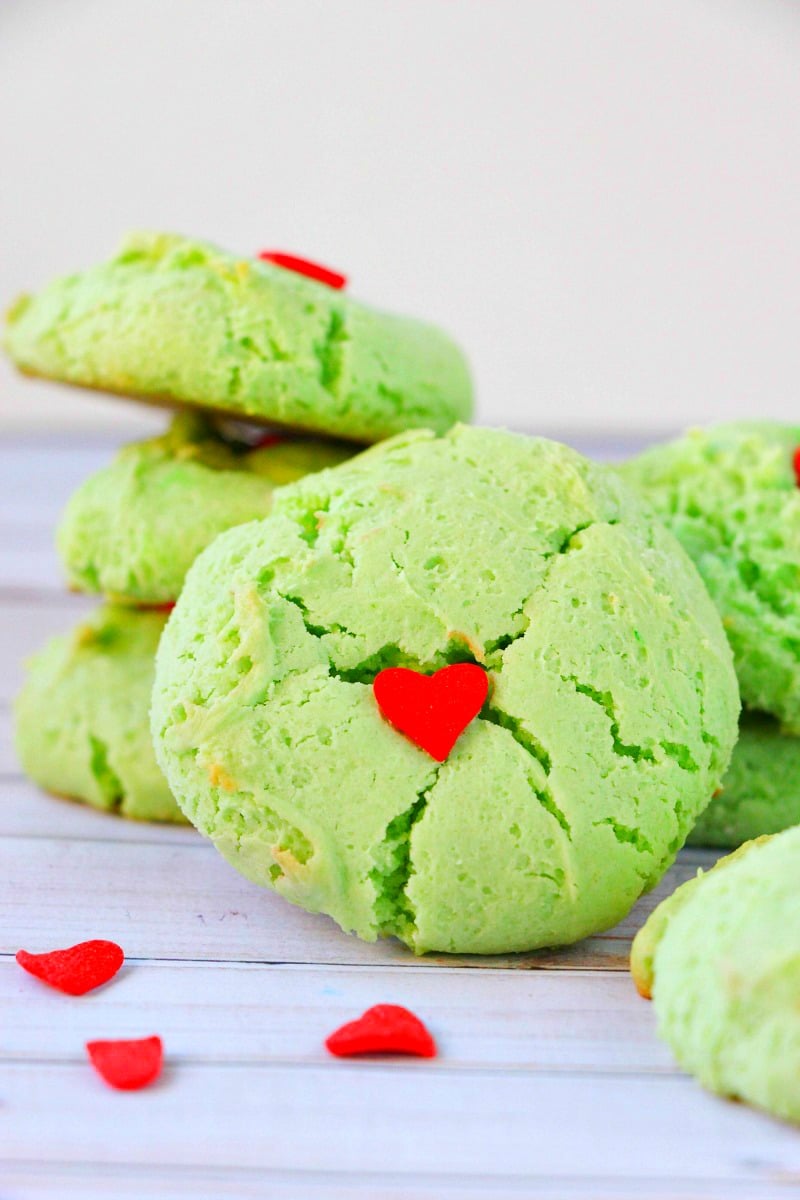 These adorable Grinch Christmas Cookies will have your heart growing three times its size this Christmas!
12. Grinch Cake Balls
Brightly colored and delicious Grinch Cake Balls are a fun treat to make this holiday season.
I hope you enjoy these delicious Grinch-inspired holiday treats!